---

Cooling Water Crossover Piping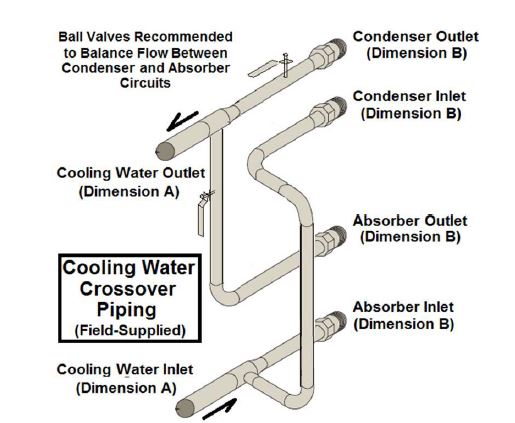 Model WFC-Model WFC-
COPPER TUBING
STEEL TUBING
A
B
A
B
SC5
2"
1-1/2"
2"
1-1/2"
SC/SH20
3"
2"
3-1/2"
2-1/2"
SC/SH30
3"
2-1/2"
4"
3"
SC50
4"
3"
5"
3-1/2"
The condenser and absorber of the WFC-SC/SH Series are connected in parallel by cooling water crossover piping that is field-fabricated with field-supplied parts and installed by others at the jobsite. The only exception is the WFC-SC/SH10 model which only has one inlet and one outlet for cooling water.
The cooling water crossover piping should be installed per these recommendations to ensure balanced and controllable flow through the condenser and absorber.
Due to differing flow characteristics of copper and steel tubing, the sizes of the pipe required to field-fabricate the cooling water crossover may differ. The chart here presents the minimum size of pipe for the model indicated.
Dimension A is also referred to as the Common side. This is where the cooling tower typically connects to the crossover piping.
Dimension B is also referred to as Branch Piping and connects directly to the unit. If the size indicated by the chart is larger than the size of the connection at the unit, make the reduction as close to the unit as possible.